Menu Maker: Recipes from Class 5 at West Twyford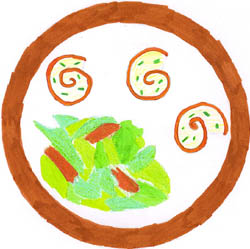 This is a light and colourful starter, imitating a Swiss Roll but by way of Italy
Serves 4
S
TS (see abbreviations)
Ingredients
100 g smoked salmon, square cut
1 small tub Philadelphia cheese
4 sprigs of chives, finely chopped
2 tsp. lemon juice
Salt and pepper
Ingredients for salad
6 leaves curly leaf lettuce
2 handsful rocket
6 leaves of lollo rosso
3 Tbsp. olive oil
3 Tbsp. wine vinegar
Method
1. Lay the slices of smoked salmon on a flat surface and mix all the other ingredients for the Swiss salmon
2. Spread thickly over the salmon
3. Roll the salmon over as if making a Swiss roll
4. Slice to get a swirly effect.
5. Put on plates to serve and mix the salad ingredients together.
6. Place the salad on plates next to the salmon
7. ENJOY!!!
By Daniele, 9, Park Royal, London
What main course will you choose now?

Aleksy's Leek and Ham - Poland

Negin's Ghormeh Sabzi - Middle East

Nathan's Jerk Chicken - Caribbean

Sophie's Pasta and Pepper - European

Mrs Johnson's Cheesy Broccoli Rice - American

Savoury Pancake Layer - American

Ezatullah's Quabili – Afghanistan

Tommy's Frying-pan Pizza - Europe - TS

Ritchie's Spaghetti Bolognese - Europe

TS = time-saver

Or would you rather have

Produced for West Twyford Primary School by Kids on the Net

©2005 Kids on the Net and the authors Last revised 14-Jul-2005
Kids on the Net: