Menu Maker: Recipes from Class 5 at West Twyford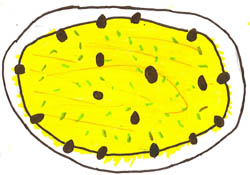 A dish from Portugal that provides a one-pot main course
Serves 6
M (see abbreviations)
Ingredients
1 ½ lb Bacalhau (dry salt cod) (dry weight)
1 ½ lb potatoes
1 ½ cup olive oil
2 garlic cloves, peeled
2 large onions
8 eggs
salt and pepper
To serve
Lettuce
Tomatoes
Black olives
Fresh parsley, chopped
Method
1. Soak the fish, overnight if possible.
2. Carefully remove the skin and any bones.
3. Peel and cut the potatoes into Julienne strips.
4. Heat the olive oil and fry the garlic and chopped onion until golden. Discard the garlic.
5. Stir fry the flaked cod.
6. In a separate pan lightly fry the potato strips.
7. Add potato to main pan and season with salt and pepper.
8. Cook over a very low heat while you beat the eggs in a bowl.
9. Pour eggs over the cod and potatoes and cook until set.
10. Sprinkle with parsley and decorate with olives.
11. Serve surrounded by lettuce and sliced tomato.

By Debbie, 10, Park Royal, London
What dessert will you choose now?

Aisha's Vermicelli Pudding - Middle East

Cass's Choc-chip Cookies - Australian

Jouman and Hanin's Mohalba - Middle East

Beronia's Yeast Cake - Middle East

Keyleigh's Yoghurt Cake - Europe

Miss Muir's Marsden Cake - Europe - TS

Kishan's Pancake Dessert - Europe

Tara's Chocolate Milk Shake - Europe - TS

Negin's Sangria - Spanish (non-alcoholic) - TS

Jovhan's Choc-chip and Peanut Butter Cookies - American

Zayn's Besan Kay Ladoo – Pakistan - TS

Jodie's Guarana Punch – Brazil - TS

Mohamed's Marvellous Minis - Somalia

TS = time-saver

Or would you rather have

Produced for West Twyford Primary School by Kids on the Net

©2005 Kids on the Net and the authors Last revised 14-Jul-2005
Kids on the Net: