Menu Maker: Recipes from Class 5 at West Twyford
Sophie's Pasta with Peppers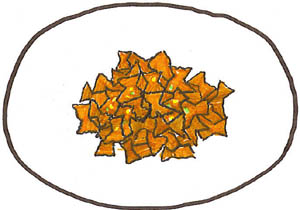 A quick pasta dish in which peppers add vitamins and interest
Serves 2 for a main meal or four with accompaniments
V
M
TS (see abbreviations)
Ingredients
1 cup pasta shells
1 jar of pasta sauce
½ red pepper
½ green pepper
1 clove garlic
Optional sliced mushrooms and/or sweetcorn
Method
1. Place pasta shells in a large pan of boiling water
2. Return to boil and simmer for 10-12 minutes
3. Cut pepper into fine strips and finely chop the garlic
4. Heat the sauce in a pan
5. Add peppers and garlic to sauce
6. Drain the pasta shells and mix with the sauce.
7. Ready to eat!
By Sophie, 10, Park Royal, London
What dessert will you choose now?

Aisha's Vermicelli Pudding - Middle East

Cass's Choc-chip Cookies - Australian

Jouman and Hanin's Mohalba - Middle East

Beronia's Yeast Cake - Middle East

Keyleigh's Yoghurt Cake - Europe

Miss Muir's Marsden Cake - Europe - TS

Kishan's Pancake Dessert - Europe

Tara's Chocolate Milk Shake - Europe - TS

Negin's Sangria - Spanish (non-alcoholic) - TS

Jovhan's Choc-chip and Peanut Butter Cookies - American

Zayn's Besan Kay Ladoo – Pakistan - TS

Jodie's Guarana Punch – Brazil - TS

Mohamed's Marvellous Minis - Somalia

TS = time-saver

Or would you rather have

Produced for West Twyford Primary School by Kids on the Net

©2005 Kids on the Net and the authors Last revised 14-Jul-2005
Kids on the Net: