Menu Maker: Recipes from Class 5 at West Twyford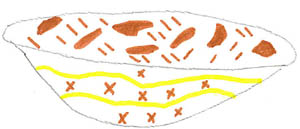 A delicious meal from the West Indies. Be sure not to mix up the spoon sizes!!!
Serves 8-10
M (see abbreviations)
Ingredients
6 spring onions, sliced thinly
2 large shallots, finely minced (or grated)
2 large cloves of onion, finely minced (or crushed)
1 Tbsp. finely minced fresh ginger
1 de-seeded red chilli (Scotch Bonnet if possible)
1 Tbsp. ground allspice
1 tsp. freshly ground black pepper
¼ tsp. cayenne pepper
1 tsp. ground cinnamon
½ tsp. ground nutmeg
1 Tbsp. dried thyme
1 tsp. salt
1 Tbsp. dark brown sugar
½ cup fresh orange juice
½ cup rice vinegar
¼ cup red wine vinegar
¼ cup soy sauce
¼ cup olive oil
2 medium chickens
Method
1. Combine the spring onions, shallots, garlic and chilli in a small bowl
2. In another bowl combine the spices, salt and sugar.
3. Mix in with the orange juice, vinegars and soy sauce.
4. Slowly drizzle in the olive oil while whisking, then combine with the ingredients in the first bowl.
5. Pour the marinade over the chicken and leave overnight in the fridge.
6. Preheat the oven to 180°C and cook chicken for about 45 minutes, turning occasionally and adding the remaining marinade while cooking.
7. Cut into the thickest part of the chicken with a sharp knife to make sure that the flesh is white all the way through. If the flesh is still pink, carry on cooking until done.

By Nathan, 10, Park Royal, London
What dessert will you choose now?

Aisha's Vermicelli Pudding - Middle East

Cass's Choc-chip Cookies - Australian

Jouman and Hanin's Mohalba - Middle East

Beronia's Yeast Cake - Middle East

Keyleigh's Yoghurt Cake - Europe

Miss Muir's Marsden Cake - Europe - TS

Kishan's Pancake Dessert - Europe

Tara's Chocolate Milk Shake - Europe - TS

Negin's Sangria - Spanish (non-alcoholic) - TS

Jovhan's Choc-chip and Peanut Butter Cookies - American

Zayn's Besan Kay Ladoo – Pakistan - TS

Jodie's Guarana Punch – Brazil - TS

Mohamed's Marvellous Minis - Somalia

TS = time-saver

Or would you rather have

Produced for West Twyford Primary School by Kids on the Net

©2005 Kids on the Net and the authors Last revised 14-Jul-2005
Kids on the Net: