Menu Maker: Recipes from Class 5 at West Twyford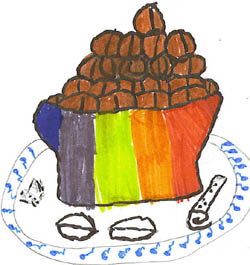 This delicious starter can be served with rice as a main course
Serves 8 as starter, 4 as part of a main course
S or M (see abbreviations)
Ingredients
250 g chickpeas (soaked)
1 ½ tsp. whole cumin seeds
1 ½ tsp. ground black pepper
2 green chillies, chopped
4-3 cloves
4-5 whole black peppercorns
5cm cinnamon stick
1 tsp. dry mango powder
5 cm root ginger, peeled and finely chopped or grated
2-3 bay leaves
1 tsp. baking powder
Method
1. Cook together until the chickpeas are tender
2. Heat 2-3 Tbsp. oil and add cumin, ginger and chillies
3. Add to the chickpeas with dry mango powder
4. Serve with a salad of onions, tomatoes, cucumber and coriander, all finely chopped and mixed with lemon juice. It can also be served with a white bread.
By Sarv, 9, Park Royal, London
What dessert will you choose now?

Aisha's Vermicelli Pudding - Middle East

Cass's Choc-chip Cookies - Australian

Jouman and Hanin's Mohalba - Middle East

Beronia's Yeast Cake - Middle East

Keyleigh's Yoghurt Cake - Europe

Miss Muir's Marsden Cake - Europe - TS

Kishan's Pancake Dessert - Europe

Tara's Chocolate Milk Shake - Europe - TS

Negin's Sangria - Spanish (non-alcoholic) - TS

Jovhan's Choc-chip and Peanut Butter Cookies - American

Zayn's Besan Kay Ladoo – Pakistan - TS

Jodie's Guarana Punch – Brazil - TS

Mohamed's Marvellous Minis - Somalia

TS = time-saver

Or would you rather have

Produced for West Twyford Primary School by Kids on the Net

©2005 Kids on the Net and the authors Last revised 14-Jul-2005
Kids on the Net: