Menu Maker: Recipes from Class 5 at West Twyford
Jovhan's Peanut Butter Choc-chip Cookies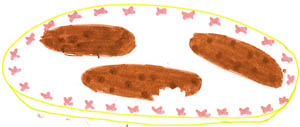 More evidence for the popularity of choc-chip cookies – if any is needed! A delicious adaptation with nuts (see Advice below)
Advice: Double the quantities of Jovhan's cookies because no-one can only eat one!
D (see abbreviations)
Ingredients
6 oz self-raising flour
6 oz Demerara sugar
3 oz butter
4 oz chocolate chips
3 Tbsp. peanut butter
1 egg
Pinch of salt
4 drops of vanilla essence
3 oz approx. broken nuts
Method
1. Cream together butter, sugar and vanilla essence
2. Slowly beat in egg
3. Sift the flour and salt together and fold in with the chocolate and peanut butter
4. Drop a large tsp. of the mixture onto two greased baking sheets
5. Bake at Gas 4 (180°C or 350°F) for 12-15 minutes.
By Jovhan, 10, Park Royal, London
Start your meal again by choosing from
Mohammed's Baba Ganoush - Middle East
Zain's Hummus Tahina - Middle East - TS
Sarv's Chick Pea Starter - Asian
Daniele's Swiss Salmon - European - TS
TS = time-saver
Or would you rather have

Produced for West Twyford Primary School by Kids on the Net

©2005 Kids on the Net and the authors Last revised 14-Jul-2005
Kids on the Net: