Menu Maker: Recipes from Class 5 at West Twyford
Aisha's Vermicelli Pudding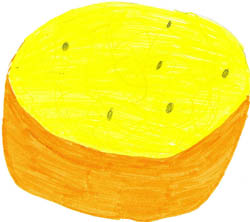 This is a traditional dessert from the Middle East that uses pasta to make a delicious nutty and sweet dish
Serves 6
V
D (see abbreviations)
Ingredients
1.5 l milk
100 g vermicelli
25 g blanched and (silvered) almonds
25 g blanched and (silvered) pistachios
6 green cardamoms
125 g caster sugar
25 g clarified butter (ghee)
Method
1. Break vermicelli into small pieces
2. Heat clarified butter until melted
3. Lightly fry the cardamom until the aroma is released. Remove and set aside.
4. Lightly fry the broken vermicelli in the remaining clarified butter.
5. Add almonds and pistachios, and fry for one minute.
6. Add milk, bring to the boil and add sugar.
7. Add fried vermicelli and cardamoms, and simmer for half an hour.
8. Serve warm or cold.
By Aisha, 10, Park Royal, London
Start your meal again by choosing from
Mohammed's Baba Ganoush - Middle East
Zain's Hummus Tahina - Middle East - TS
Sarv's Chick Pea Starter - Asian
Daniele's Swiss Salmon - European - TS
TS = time-saver
Or would you rather have

Produced for West Twyford Primary School by Kids on the Net

©2005 Kids on the Net and the authors Last revised 14-Jul-2005
Kids on the Net: