Menu Maker: Recipes from Class 5 at West Twyford
Jouman and Hanin's Mohalba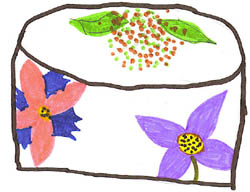 Two children provided this dessert recipe from the Middle East!
Serves 1 but quantities can be multiplied according to numbers
V
D (see abbreviations)
Ingredients
1 cup milk
1 Tbsp. cornflour
1 Tbsp. sugar
Method
1. Make the cornflour into a paste with a little milk.
2. Boil the remaining milk
3. Add the flour paste and sugar slowly, stirring continuously.
4. Put to cool into a small bowl and decorate with grated pistachio or nuts of choice.
5. Refrigerate for one hour.

By Jouman and Hanin, both 10, Park Royal, London
Start your meal again by choosing from
Mohammed's Baba Ganoush - Middle East
Zain's Hummus Tahina - Middle East - TS
Sarv's Chick Pea Starter - Asian
Daniele's Swiss Salmon - European - TS
TS = time-saver
Or would you rather have

Produced for West Twyford Primary School by Kids on the Net

©2005 Kids on the Net and the authors Last revised 14-Jul-2005
Kids on the Net: