|

|

|

|


|

|

|

|


|

|

|

|

|


|

|

|

|

|


|

|

|

|


|

|

|

|


|

|

|

|

(Please note that the authors have contributed their comments but are not able to answer questions from readers unless they specifically say so below.)

Hiawyn Oram
Always write about something you know very well - write from your heart. Write about something that's happened to you, or something that REALLY amuses you or that you feel PASSIONATE about.
Trust yourself - if YOU like it, other readers will like it too!


How to Use a Picture for Inspiration: from Hiawyn Oram
author of Just Dog, winner of the Experian Big 3 Book Award 1999/2000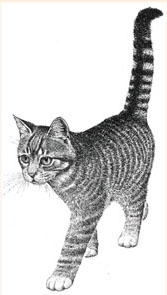 Hiawyn Oram says:
I wrote "Just Dog" from a picture of a dog which my publisher sent me, saying "We like this picture so much, can you come up with a story about a dog to go with it?"
I sat down and the story just fell onto the page. It's based a lot on my dog Fleur, who we call lots of silly names.
Here's a similar picture (of a cat this time!). Can you write the story to go with it?
As Alan Macdonald says, always look at your story again when you've written it, and redraft — look at it to see where you can improve it. Are there alternative words you can use, for example, instead of "he said"? Is there a balance between beginning, middle and end?


©2003-2006 Kids on the Net and the authors Last revised 17-May-2003
Kids on the Net