VICTORIAN COURT & PRISON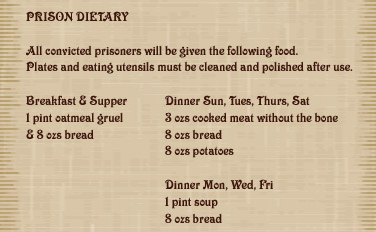 What was daily life like for children in a Victorian Prison?
Look carefully at the Prison Dietary for Nottingham Prison given above, and the picture of Dinner time in the Boys' Prison below. Read the rules for Prevention of Filthy Diseases. Look at pictures of prison life.
Can you describe a day in the life of a Victorian child convict?
See children's writing from Bosworth Primary School, Nottingham, and others about daily life in prison.