2 Little Time
Zee Monsterz Roomz, Room 5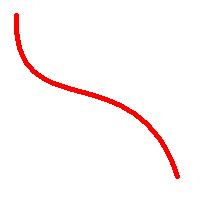 I named my monster 2 Little Time because I didn't have enough time to finish the one that I had started. So I started a new one that was quick and easy but still fun and exciting.
He is one single red squiggly line. He is bold in thickness and takes about 10 seconds to make.
2 Little Time tries to delete other parts of other monsters because he feels different and he wants everyone to be like him. Boy, is he a brat or what? I guess he's a spoiled little monster (probably inherited it from his mom).
I think 2 Little Time is interesting, creative, and super easy!
(November 2004)
Chandler, AZ, USA, 11
Copyright © 1999 - 2000 Mark Burgess and Kids on the Net