Stew Monster
Dreadful Dorm, Room 11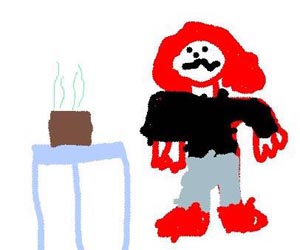 There once was a monster named Stew Monster. He loved to make stew. He likes to cook worm stew. I'd be sick if I had it, because I don't eat worms. I eat real food but that is my opinion.
Stew Monster has a big mouth and he has a lots of red hair on him. He also has baggy clothes and red skin. It's weird! But if he likes it, then I like it. Well that is my story and my monster says bye and so do I.

Alissa, Eldorado Private School, AZ, USA, 11
Copyright © 1999 - 2000 Mark Burgess and Kids on the Net