Locomoco
Dreadful Dorm, Room 10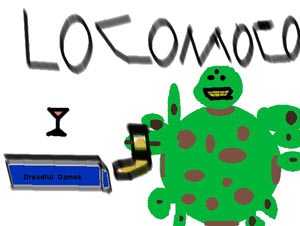 My monster's name is Locomoco. He has 3 bulging eyes, 6 arms, 4 legs, and he is green with brown spots. He has rotten yellow teeth. His body is so hairy. He is so ugly and has mites in his eyebrows. He also has a big fat nose. His ears are medium size and he has very bad hearing and really weird eyesight.
He loves to play games. He also loves to eat socks with earwax and Worm Martini's too. He loves to play tennis and beat ball, shop for dresses, climb big rocks, and do many other things too. He lives under your bed with your toys.
His friends are D dong, Wogalaboogala, Archiwarchi, and Stew Monster.
That is My Monster!!
Kyra, El Dorado Private School, AZ, USA, 9
Copyright © 1999 - 2000 Mark Burgess and Kids on the Net