Chessie the monster
Middlesex Monster Maddness, Room 512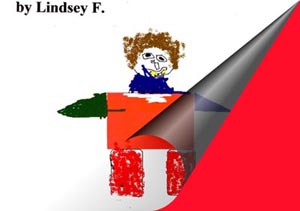 Once there was a dragon and her name was Chessy. She lived in an abandoned underwater pirate fortress and it was called Area 51. Area 51 was about 16,000 years old. There were a lot of fish where she lived. Chessy was green and slimy. She had red spikes on her back. She was tremendous, and had a very powerful long, green tail. She had powers such as laser vision, fire breathing, sense of smell, x-ray vision, and powers of invisibility.
Chessy was lactose intolerant and she couldn't have any milk around her at all. Milk wouldn't kill her, but it would make her really sick.
Long ago, everything was fine until she went mad and started knocking down skyscrapers. The Japanese started screaming and running around in circles. It took a while before the milk truck and the fire truck got there. When they finally got there they started loading the milk into the hose and then they started spraying her with the milk. Chessy fell over and was powerless. She managed to escape and they never saw her again.
Lee, Virginia, USA, 11
Copyright © 1999 - 2000 Mark Burgess and Kids on the Net