Spike
Dreadful Dorm, Room 9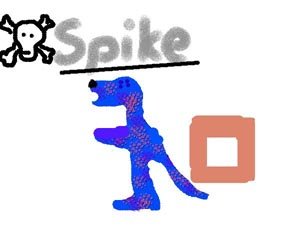 Spike is a very weird monster. She is blue, with pink and purple polka dots. She has four eyes that are turquoise. She has spikes that are going down her back. Spike is always getting bad grades and is always watching television. Her house is always noisy, her parents are usually gone, and it is so messy.
Spike has two sisters and a brother. Her sister's names are Candy and Sugar and her brother's name is Mike. Candy and Sugar are twins. They will only eat stuff that has sugar on it, and they are 5. Her brother Mike is 10 and is always teasing Spike, Candy, and Sugar. Spike is twelve and her best friend is Boo.
Jordan, El Dorado Private School, AZ, USA, 9
Copyright © 1999 - 2000 Mark Burgess and Kids on the Net