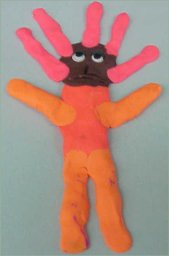 Scary Larry was his name,
Scaring people was his game.
On floor B, in room 12,
Scary Larry lived in the Monster Hotel.
He wears the same clothes, that look very freaky,
All orange and black, all very stinky.
His hair is wild and poofy,
And his face is scary and goofy.
He liked to scare people every day,
That was the way he liked to play.
Monday, Tuesday, every day of the week,
He scared the brave and he scared the meek.
Halloween was the day he liked best,
He stayed up all night and he got no rest.
The owners of the hotel were losing money,
Scary Larry thought it was funny.
Other monsters checked out, as Scary Larry was such a pain,
So they shipped him off to the state of Maine.
When Scary Larry moved far away,
The customers at the hotel could enjoy their day!!
By: Lisa Calvert
St. Julie Billiart School, Hamilton, Ohio, USA

©2001 St Julie Billiart School and the author
Hosted on Kids on the Net