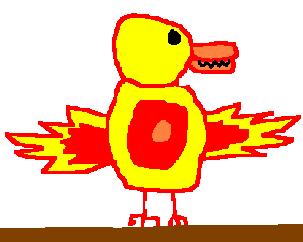 Harry Duck
Harry Duck likes to be called Harry,
He is a duck that's quite contrary.
The rules of the hotel,
To him are not swell.
There is no one like him,
He always wants to swim.
He fills his bathtub to the rim,
And invites over his friend Tim.
His room is soggy as can be,
And his footprints you can see.
Going up and down each hall,
To the lounge where he does sprawl.
He is often found there,
With his little teddy bear.
Harry Duck is quite a sight,
As a duck he is a fright.
He has a big nose,
And squeaky toes.
Colored bright orange and yellow,
He is a very strong fellow.
At the monster hotel he is a pest,
Unless it is time for his rest.
With his blanket of blue,
That is still quite new.
Asleep on a pillow,
Dreaming he is an armadillo!
And if you must read this again
You will be thrilled to be at the end
By: Alexa
St. Julie Billiart School, Hamilton, Ohio, USA

©2001 St Julie Billiart School and the author
Hosted on Kids on the Net