Choco Owen
In room 1 there's a monster who has 4 slimy legs and 20 green eyes.
His head is just like a rugby ball and is the same colour as chocolate.
He's covered in chocolate and wears Adidas.
When I went past the door just now he dashed out and gave me a big wet chocolate snog.
He hides under beds. Favourite food is worms on toast.
He pretends to be Michael Owen and David Beckham.
He likes sport and he likes Playstation. His favorite games are Colin McRae Rally and Bloody Roar. He's got 2 ears and he supports Man.Utd.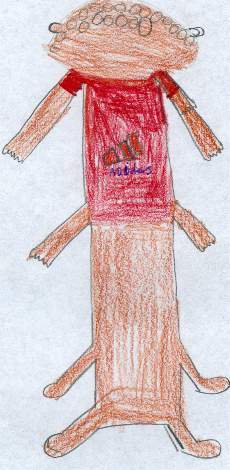 By Jamie, 10, Oakthorpe, Leics., UK

Concept © 1999 by Mark Burgess and Kids on the Net March 1999